Calendar
January

2020

Mon
Tue
Wed
Thu
Fri
Sat
Sun
Now Accepting New Recruit Applications
Until February 10, 2020
Please park across the road at the Durham Alternative Secondary School, which has an entrance off Gibb St.
Cadets must be between the ages of 12 and 19 years of age at the time of joining and be a Canadian Citizen or have permanent resident status.
This program including the uniform issue is free to cadets and supported financially by the Canadian Armed Forces and the Rotary Club of Oshawa. There is a small one time $20.00 administrative fee for the supply of incidentals.
Please visit our website ahead of time for further information. You will also have access to our application forms and requirements to assist in the process.
Although the Application Forms will be available that evening it would be advantageous to have them pre-filled at your own time.
Please look below for links to our site and directions.
Please see the map below for directions:
 ——————————————————————-
 Applications for 20201 Summer Training Courses Now Open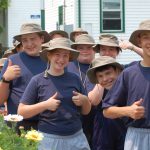 We are now accepting applications for the 2020 Summer Training Courses. The Application can be found by 
CLICKING HERE
.
Please ensure that you complete all of the information including your contact information and ensure that you are qualified to apply for the courses. This includes applications for National, Local Courses, and Staff.
Applications can be returned to the attendance desk on Monday evenings or directly to Mr. Glenn Weigel.
————————————————————————————————————————