Calendar
October

2019

Mon
Tue
Wed
Thu
Fri
Sat
Sun

6

Area Orienteering Competition

SEOA Orienteering Competition

Fall Tagging

• • •

7

Monday Training Night , Canadian Flight Academy

Recruit Night #3

• •

8

Open Range Shooting Training

Flying Scholarship

• •

12

Range Shooting Training for New Recruits Only

•

21

Monday Training Night, cadets are to report to the YWCA for opening parade

Recruit Night # 4

• •

28

Monday Training Night

Recruit Night # 5

• •

31

Boot shining

Drill Team (Tentative start date)

• •
Change of Training Location – Monday, October 21, 2019
Our Monday Training night

 will be held at the 

YWCA

,

33 McGrigor Street, Oshawa

. This is located between Centre Street and Simcoe Street just North and East of the Cadet Rotary Hall. We have included a google maps links below for better directions. Cadets can be dropped off in the traffic circle off of McGrigor St
The start time will be 18:30 or 06:30 PM in Full Uniform.
******NOTE **** Cadets should be picked up from the Cadet Rotary Hall, 254 Centre Street South, Oshawa after closing parade at 22:00 or 10:00 PM. Please park in the parking lot of the Durham Alternate Secondary School, access off Gibb Street.
This notice doesn't affect the Recruit Course cadets who will still be meeting at the Cadet Rotary Hall, 254 Centre Street South, Oshawa. 
——————————————————————————————————————–
Sports Night on Friday, October 18, 2019 
This coming Friday, October 18 will be our first Sports night. This will be held in the Gym of Village Union Public School, 155 Gibb Street, Oshawa. The start time is 19:00 or 07:00 PM until 21:00 or 09:00 PM. This is open to all cadets, the dress is PT gear.
——————————————————————————————————————–
Applications for 20201 Summer Training Courses Now Open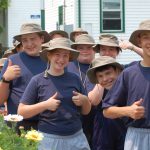 We are now accepting applications for the 2020 Summer Training Courses. The Application can be found by 
CLICKING HERE
.
Please ensure that you complete all of the information including your contact information and ensure that you are qualified to apply for the courses. This includes applications for National, Local Courses, and Staff.
Applications can be returned to the attendance desk on Monday evenings or directly to Mr. Glenn Weigel.
————————————————————————————————————————